Club and group discount

Buy 2 get $150 off each roller
.

Use coupon code GROUP2 at checkout.




Get out of the Saddle and CRANK



Get FAST and SMOOTH



YOU'RE TOUGH, but some days it's better to INSIDE RIDE.


Ride your HARDEST
workouts INSIDE
E-Motion Rollers use our patented free motion technology to make riding inside feel more like riding outdoors. Get out of the saddle and crank or settle in for a smooth, enjoyable ride.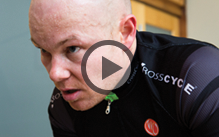 Get FASTER, STRONGER
and keep fit even when the sun goes down too early or the work day is too long.
Balance and control from riding a dynamic system where you can stand and hammer is more like the real thing. I am stoked to have E-Motion rollers part of my training arsenal!

Jeremiah Bishop - Harrisonburg, VA
Former US National Champion Short Track and Marathon Mountain Biking

Training indoors is ideal for a hard, intense and easily quantifiable session. That's why I train on the E-Motion rollers even in the summer.

Lex Albrecht - Montréal, Canada
Canadian National Cycling team and TWENTY16 Pro Cycling

I used to dread winter sessions on static trainers; they've always been a poor substitute for the road. E-Motion rollers are fun and the closest thing to riding on the road I've yet to encounter. In three years of use they are still my most valued training tool.

John - Boston, MA

I've been riding them 4-6 days per week all winter, and wanted to let you know how very happy I am with your product. It makes riding rollers very close to the experience of riding on the street. One of my favorite things about them is that it makes standing up and sprinting very easy.

William - Newport Beach, CA

Long indoor rides on the E-Motion rollers are more comfortable, realistic, and fun than riding the trainer. I've enjoyed and benefited from record training hours this winter on my E-Motion rollers.

Christopher - Newton, MA

As a professional athlete I've trained thousands of hours on my E-Motion Rollers and cannot imagine riding a fixed trainer ever again. I broke my shoulder this year. I couldn't fully support my weight and I was concerned about riding outside or on the rollers. The FFS attachment preserved the free-floating ride quality I love but gave me the security to ride with no concern for my injury. This is an amazing accessory for those who aren't ready for the total commitment to rollers or need more stability for specific workouts!

-Evan Plews
Focus on the effort,
not the rollers.
It takes just a few minutes for experienced
cyclists to get comfortable, no special roller
riding skills required.